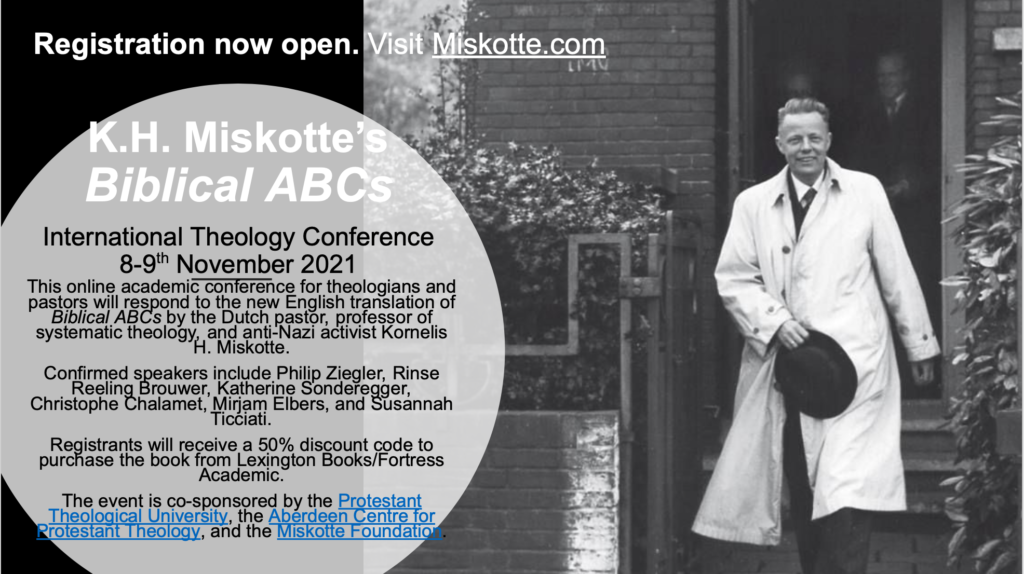 K.H. Miskotte's Biblical ABCs
An International Theology Conference
8-9th November 2021
To purchase your ticket (for the small fee of €10.50) and secure a place at the conference (together with a 50% discount on the book itself) just follow this link to the registration page.
https://www.eventbrite.nl/e/tickets-miskotte-conference-169155995135
Registration open until Friday, 5th November 2021
K.H. Miskotte (1894–1976) was a Dutch Reformed pastor and theologian. He was also an intensive student of Hebrew Scripture, a sympathetic interpreter of contemporary Jewish thought, and a mediator of Karl Barth's theology to the Netherlands. As such, Miskotte vocally opposed Dutch Nazism in the 1930s and participated in underground resistance to the German occupation of the Netherlands. He wrote several works to strengthen the spiritual resolve of other resisters—including a short Bible reading primer and anti-Nazi catechism in one, entitled Biblical ABCs.
First published in 1941, the book is urgent, even raw, and yet theologically focused. It concentrates on the form of Scripture, laying out biblical keywords across twelve chapters. These words draw from Hebrew Scripture, which Miskotte prioritizes relative to the apostolic writings of the New Testament; and they orbit the person and profile of God. They take departure from the A of the biblical ABCs, the Name of God, and they conclude with God's work of sanctifying, which Miskotte identifies as a kind of divine sabotage.
Miskotte's Biblical ABCs became a foundational text for the school of Dutch Reformed dialectical theology that arose after the war, and it remains popular; a Dutch eighth edition was published in 2016. It is now published in English for the first time. The Biblical ABCs conference, co-sponsored by the Protestant Theological University, the Aberdeen Centre for Protestant Theology, and the Miskotte Foundation, offers an online forum for academic theologians as well as pastors to respond to this event. Confirmed speakers include Philip Ziegler, Katherine Sonderegger, Susannah Ticciati, Rinse Reeling Brouwer, Mirjam Elbers, and Christophe Chalamet.
Registrants will receive a 50% discount code for purchasing the book from Rowman & Littlefield.
For news and further information keep watch at Miskotte.com.
Miskotte Conference Schedule
8th-9th November 2021 (all times Amsterdam, GMT+1)
Monday, 8th November
14.00h Opening and welcome by
Maarten Wisse (Rector, PThU) and Marco Visser
14.15 – 14.45h Introduction K.H. Miskotte
Rinse Reeling Brouwer
14.45 – 15.15h         Central themes in Biblical ABCs
Mirjam Elbers
15.15 – 15.30h Discussion + short break
15.30 – 15.45h Break
15.45 – 17.15h        Panel discussion on Biblical ABCs:
Susannah Ticciati
Kate Sonderegger
Christophe Chalamet
Moderator: Philip Ziegler
17.15 – 17.30h Break
17.30 – 18.15h        Parallel sessions: Short paper and discussion groups
Tuesday, 9th November
14.00 – 15.00h         Translation and relevance of Biblical ABCs
Eleonora Hof
Collin Cornell
15.00 – 15.15h Discussion + short break
15.15 – 16.00h        Parallel sessions: Short papers and discussion groups
16.00 – 16.15h Break
16.15 – 17.15h        Biblical ABCs Today: A Theological Provocation
Philip Ziegler
17.15 –             Plenary conclusion, announcements, drinks/social